0-RING VULCANIZING KIT - (INCH) 0.070" to 0.50" die. Kit includes:
19" tool box
aluminum work board
cartridge heater (120 VAC - 100 Watt*)
On/Off and Hi/Low control knob
one (1) MF #9596.50 8-position vulcanizing die with built-in cord cutting jig (integral in die body)
utility knife, marking pen, glove, cooling pan
Inch sizes in Die include 0.070, 0.103, 0.139, 0.210, 0.275, 0.312, 0.375 and 0.50 inch. Metric or custom dies may be purchased separately. All dies are interchangeable.
• Unique • Convenient • Effective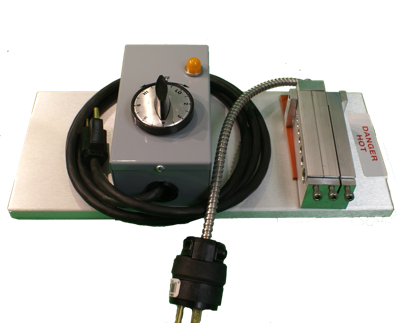 Here's one of the most practical, time saving, widely used devices for industry ever manufactured.
You can professionally make high temperature and chemical resistant O-Rings to the exact size you need - in either inch or metric (up to 1/2" or 12 mm).
NOT A STICKY KIT
A vulcanized O-Ring produces a bond with greater elasticity and strength due to molecular bonding. It is the highest quality for dynamic and static services.
INCH AND METRIC CAPABILITY AND MUCH MORE
The vulcanizing die and Viton Cord are now available in a choice of inch and metric sizes. The kit vulcanizes other materials now including Buna N, Fluorel , Silicone, Nordel (EPR), Neoprene, Nitrile, and EPDM. The heater control is available in either 120VAC or 240VAC 100W versions.
NO SPECIAL SKILLS REQUIRED
The Viton O-Ring Heater was designed specifically for ease and speed of operation. Complete easy-to-follow instructions with clear step-by-step drawings are included in each kit. The onboard temperature controller/timer makes it a snap. Put your O-ring in the die, and start the controller - THAT'S IT. The controller will set and maintain the correct temperature, time the bonding cycle, and turn off when done. Making O-Rings couldn't be easier.
EACH KIT INCLUDES EVERYTHING YOU NEED
19" Toolbox to Carry Complete Kit
Complete Workboard with Controller
Heating Element and Temp Sensor
Vulcanizing Die (inch, metric, or custom)
Cutting Knife
Cooling Container
Glove and Marking Pencil
Standard 8 slot die (MF95960.50) available with 0.070", 0.103", 0.139", 0.210", 0.275", 0.312", 0.375", and 0.50". Metric dies from 5.7mm to 12mm.
Special custom dies (MF9596CX)
are available in flat, rectangular, chevron, and irregular cross sections up to 3.5" (87.5mm). See chart below:
Typical Custom Dies:
Extrusion and Bonded Cross Sections
| | | | | | | | |
| --- | --- | --- | --- | --- | --- | --- | --- |
| | | | | | | | |
| Square | Rectangle | Chevron | Tubing | Quad | Oval | Valve Seal | 18mm |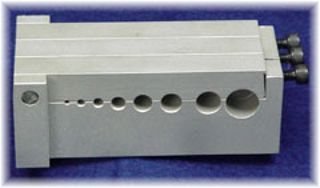 MF95960.50 - 8 position inch die
0.70 thru 0.275 inch PLUS 0.312, 0.375, 0.50 inch

Blank Die - MF9596 DIY (Drill It Yourself)
Total Cross Section available to 3.5" (87.5mm)
Solid Elastomer Rubber Bonding Formula
This is a SOLID rubber bonding formula. All you add is toluene or MEK. This means it can be shipped as a NON-FLAMMABLE. Once agitated into a viscous solution - it is ready to use. Bonds EPDM, Buna-N, and Neoprene. Solid and liquid form requires refrigeration.
Viton is a registered Trademark of E.I. DuPont.
Fluorel is a registered Trademark of the 3M Company.